Under15 Girls ASA 2014
City of Manchester Girls Successfully Defend Under 15's ASA Title.
On the 26th October Manchester was host to the U15 Girls ASA finals (2000+).
The squad :
Niamh Campbell-O'Donnell Annie Clapperton Maisy Clapperton Emmie-Rose Eastwood Isabel Larder Anna Ticehurst Katie Smith Emma Pritchard Holly Gowland Chloe Jones Chiara Tommasello.
It was a mixture of some players with lots of experience and other's for who this would be their first national competition.
The first match was against Rotherham and the girls had a great start winning quite comfortably 11-2 with everyone getting plenty of pool time.
The second match was vs a strong Paignton squad and this proved a much tighter affair. The girls struggled to get going and only a series of fine saves by the goal keeper Niamh stopped Paignton from establishing a commanding lead. Eventually in the second half the girls got their noses in front and with 20 seconds to go were leading 4-3 with Paignton in possession and when their attack broke down with 8 seconds to go it looked like Manchester were going to win. However, with what looked like a foul, Paignton's centre forward regained the ball and, with the referee not giving anything, scored with seconds left to equalise. The final score was 4-4 and was probably a fair result with neither team deserving to lose.
The next match was against local rivals Liverpool and was a tense affair with goals in short supply. Liverpool took the early lead with Manchester eventually replying with two goals in the second half. With both teams needing to win the final minutes became very tense with both sides hitting the post and missing chances. However the score stayed at 2-1 for Manchester to take a very hard earned win.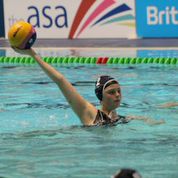 With Paignton also winning their next game, but by a considerable margin, Manchester needed to score plenty of goals in their next matches if the competition was to be decided by goal difference. Cheltenham was the opposition and the girls wasted no time in finding the net eventually winning 19-1.
After beating Tyldesley 15-1 it all came down to the last match. Manchester vs Crawley and Paignton vs Liverpool. It also emerged that in the case of a tie for first place the result would be decided by the goal difference against the 3rd place team Liverpool. With Manchester only beating Liverpool 2-1 it meant that if Paignton won by more than one goal then they would be Champions regardless of how Manchester did against Crawley. However, Liverpool still had plenty to fight for with a win giving them second place and possibly winning the competition if Manchester lost.
Both of the final matches were being played at the same time and Manchester taking an early lead, eventually winning 13-2, most eyes were on the other match. Paignton struggled in the first half and were 2-0 down at half time. With Liverpool soon being 3-1 up in the second it looked like Paignton had blown it but they started to pile the pressure on to bring the score back to 3-3. The game was hanging in the balance when Paignton were awarded a penalty to which the Liverpool goal keeper produced an amazing save to keep the score level. At the other end an unfortunate own goal gave Liverpool a 4-3 lead. With only 20 seconds left Paignton equalised but ran out of time to make the final score 4-4.
This meant the girls were Champions and after receiving their medals wasted no time in throwing George into the water.
A big thanks to all the squad for a great result. A special mention goes to Annie Clapperton who was voted MVP.